Gantry cranes unload bulk cargoes such as coal, ore, and phosphate from a cargo tank into a hopper and then unload it to a yard or loading dock via conveyors. Lifting equipment Grab bridge cranes are used for bulk materials and granular materials. However, do you know the working principle of gantry grab crane?
Working principle of gantry grab crane: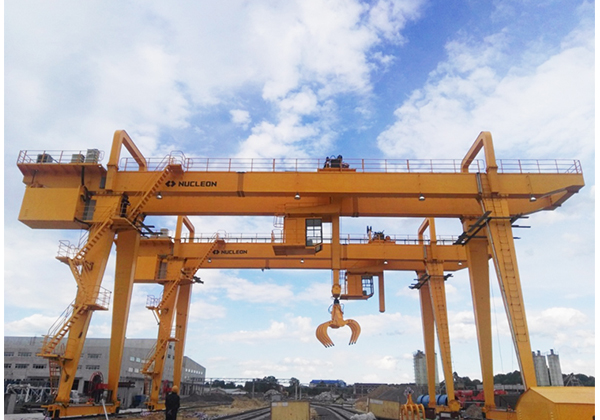 Gantry grab cranes are on double-reel hinged cars, one set of drums leads one steel wire rope to support use, and the other set leads one to open and close. After grasping half open, fall on the object, gather and open and close the wire rope, pull the beam to pull the beam, make the two jaws closed, fill the bucket with material, lift and support the wire rope to lift the grab, and drive to the unloading yard. Supports the wire rope to move, the Panasonic opening and closing rope uses the grab to open, removes the material which grasps.
Configuration of Gantry Grab Crane:
1. There are two parallel and vertical main beams in the opening and closing direction of the grab;

2. lifting weight includes grab weight;
3. the car with rain cover, the top limit size H + h;
4. The total amount of outdoor cranes and the maximum wheel pressure should be increased by 5% accordingly;
5. there are two types of angles for the carts: conductive angle steel and safety trolley wire;
6. the crane has a standard car and with two kinds of weighing cars to choose from;
7. according to need can be equipped with sugar cane grabs, garbage grabs, wood grabs and other types of grippers;
8. Grab is divided into: single rope grab, double rope grab, electric grab, target set grab.